---

Blog
Measure and Understand your Digital Experience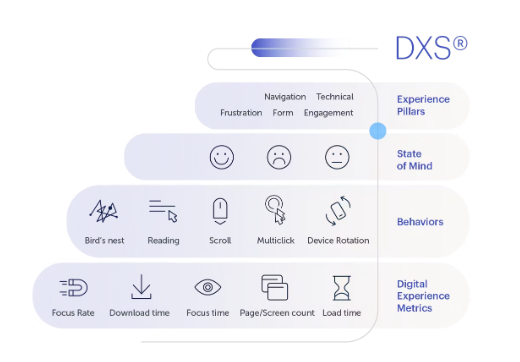 Introducing Digital Experience Analytics (DXA)
Delivering a frictionless digital experience is essential to attracting and retaining members. Creating this experience can be challenging, because the majority of members will leave your site without providing feedback on what was good and bad. Digital Experience Analytics can identify and prioritize the most urgent experience issues impacting engagement across your website and app. Member Loyalty Group is excited to offer this powerful new tool as a complement to our core voice of the member program or as a standalone product for credit unions wanting a deeper understanding of their digital experience.
Learn your Digital Experience Score (DXS)
At the core of Digital Experience Analytics' technology is the Digital Experience Score (DXS®). DXS is the first validated, universal metric that calculates the quality of every user's experience on a scale of 0-10.
This intelligence is represented by an overall score, as well as scores for five key pillars of the digital experience: Engagement, Frustration, Form, Technical, and Navigation. These individual scores provide valuable insight on how your site and app are performing.

Know immediately which issues need attention
In the background, Digital Experience Analytics automatically scores and prioritizes the most urgent negative experience issues so you know where to focus.
Pinpoint the cause of issues to improve experiences
Dig deeper to step into your members' shoes, empathize with their experiences, and identify improvements.
Session Replays: Get to the root cause of uncovered anomalies by watching the screen recordings of your online visitors
Heatmaps:  Visualize on-page user behavior to increase engagement and conversion
Customer Journeys: See the exact paths users take and evaluate their online experiences every step of the way.

To see a demo of the program in action, contact us or request a demo.
To learn about the science behind DXS, read

this whitepaper

from our partner Medallia.

DXS is a registered trademark of Medallia
Related
Speech Analytics